Resources
For Patients, Physicians, Coaches & Trainers
Insurance
Have health insurance?
We can work with most plans. Contact us with your insurance information and we will do the rest.
No coverage?
We have a number of options available. Speak with us to learn which option works best for you.
Before Your First Visit
We look forward to seeing you for your Initial Evaluation! Please plan to arrive 10 to 15 minutes before your appointment time for administrative purposes. To help serve you better, we want to remind you of a few things to prepare prior to arrival:
New patient packet – If you have completed this already, you may email, fax or drop it off prior to your session.
Insurance card – Please be sure to have your latest card for us to scan.
Prescription – If applicable, we will scan this and you can keep the original for your records.
Images – Please be sure to have any Xray, MRI, CT reports and the CDs for them if possible.
Braces, Devices, Orthotics – We would like to see these if applicable.
Clothing
Please understand that we evaluate and treat our patients in their entirety. We request that your entire body be as accessible as possible.
We request you bring shorts, even if you are coming for an upper-body complaint. Please also bring a tank-top. Please no jeans or other restrictive clothing. We need you to move!
Aftercare
Over the years we have found certain actions that patients can take which will generally help them in overcoming their presenting complaints. If something listed here increases your symptoms or of which you have questions, please stop the activity until you consult with your therapist or M.D.
Eliminate or decrease the frequency of activities which cause pain. This just perpetrates the inflammatory and degenerative process. Ask your therapist to provide you with different strategies to perform those activities.
If you get a delayed onset of pain, play Sherlock Holmes and discover what activity you are performing that causes your pain. Ask your P.T. to provide you with different movement or postural suggestions to help decrease the irritation.
With acute or recent injuries always apply ice, no more than 15 minutes at a time, every hour, most authorities advise.
Ice is also helpful with chronic or inflammatory pain, especially pain which comes on after an activity.
Heat helps with stiffness and achiness, but should not be used with acute symptoms as it causes swelling.
If you do not get increased symptoms with walking, you should take therapeutic walks. The ideal is twice a day to tolerance or 15 minutes. It is okay if you want to walk longer if it does not increase your symptoms.
To improve you must do your exercise program as prescribed by your therapist and utilize pain free and proper body mechanics. This is your part of the team approach to solving your problem.
Many patients have found that drinking more water has helped them reduce the soreness from treatment and to assist their problem. Drink up to eight tall glasses of water a day, especially on treatment days.
Many M.D.s recommend taking vitamins during the recovery stages of a physical injury. Vitamin C, which is important in developing scar tissue has been recommended to assist the healing process. Some recommend as much as 2-3 grams if it does not cause loose stools.
Become aware if your pain is increased by muscle tension and stress. If you tend to hold the area of pain tightly, begin to train yourself to keep the muscles of the area relaxed. If you find this difficult, bio-feedback can often be helpful in training you to be more relaxed.
Privacy Policy
At Move Physio, we take our patients' privacy very seriously. In our office we use digital sign-in technology, which eliminates the patient-list clipboard that most practices use for patient sign-in.
Our practice has worked with high-profile individuals including executives, professional athletes and celebrities, however maintaining complete privacy is not exclusive to these individuals. We have multiple safeguards in place, including the very structural design of our office!
In order for us to discuss any patient information with any third party, we require an information release form be completed and signed.
We want your choice of Physical Therapy providers to accurately represent the quality of care that your practice demands. We are proud to be the provider of choice for the top orthopedic surgeons and sports medicine physicians in Bergen County NJ, Orange County NY, Rockland County NY and Manhattan.
Care is always given by the same Physical Therapist to ensure quality and maintain continuity of care. We maintain communication with referring physicians throughout a patient's care so any concerns can be addressed in a timely fashion.
We welcome challenging cases and frequently treat patients who have failed other interventions.
Like Carbon Monoxide, movement dysfunction is the "silent killer" of athletic performance. Often going undetected until it is too late, inefficient movement patterns will sacrifice strength, power and speed while breaking down healthy tissue. Early on, these patterns can be recognized by a performance plateau or later on will be realized as pain and injury.
At Move Physio, we understand the long hours, practices, scrimmages and training it takes to be a successful team. We also understand how frustrating and devastating an injury to your star player can be to a season. As part of our commitment to the community, we offer services to ensure players stay healthy and injury free.
Team screening is an excellent option to identify athletes with problematic patterns. Correction of these patterns can yield greater gains in strength, speed, coordination and skill acquisition in addition to the profound decrease in injury potential.
Coaches opting to participate in a team screen are taking an important step in ensuring the highest performance and durability of their athletes. Screens are a critical tool for early intervention and are extremely useful in tracking progress through a training season.
For injured athletes or those with complaints of pain, Move Physio offers the area's only comprehensive, movement-based physical therapy evaluation and treatment. This means your player is off the bench faster and will perform better than they did prior to injury. With over a decade of physical performance coaching experience, your athlete is in good hands.
Feel free to contact us for more information.
Products
What we've found to be valuable and helpful
Educational Products
This book written by an amazingly talented woman, Cheryl Wardlaw, is a must-have for anyone dealing with pain…either as a patient, family member or as a clinician. Cheryl takes the concepts of pain-neuroscience and interprets them into an easily-digestible battleplan.
This is a foundational resource for truly understanding how pain works. This should be required reading for ANY clinician that works with individuals in pain.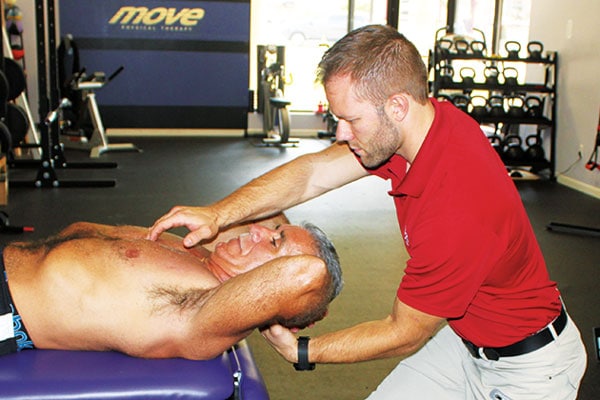 Around the House
100% white down. No feathers or other fillers. The best quality pillow at a reasonable price. Down alternative is NOT as good, so if you have an allergy get yourself a good zip-up allergen cover for this down pillow.
Instant gratification and free 2-day shipping. This has become a problem for us… Try it for free for 30 days, or give it as a GIFT.
We use this around the office. It doesn't smell like a cleaner AND its naturally-derived and biodegradable. This is the concentrate and should last you a long time.
Self Care Products
Disclaimer
Some of these are 'affiliate links' which may compensate us for the referral of their product. These commissions go toward maintaining this site.